1. Getting Started
1.1. Prerequisites
In order to integrate Trusona with Slack, you'll need the following:
Slack Plus or Enterprise Grid plan
1.2. Step 1: Email Trusona
Send an email to support@trusona.com with the following information:
Subject: Slack Integration
Company name
Trusona will send you the following via email:
X.509 Certificate
SAML Endpoint
Issuer (IdP Entity ID)
1.3. Step 2: Slack workspace administration
Login to Slack as a workspace owner
Navigate to the workspace administration area
Click the "Settings" tab
1.4. Step 3: Configure SAML
Refer to this Slack help center article for more information.
Click the "configure" button next to the "SAML authentication" option
Enter the "SAML Endpoint" value provided by Trusona for "SAML SSO URL"
Enter the "Issuer (IdP Entity ID)" value provided by Trusona for "Identity Provider"
Enter the value of the "X.509 Certificate" file provided by Trusona for "Public Certificate"
Expand the "Advanced Options" section
Uncheck, "Sign AuthnRequest"
Leave "AuthnContextClassRef" and "Service Provider Issuer" as is
Uncheck the "Responses Signed" option
Check the "Assertions Signed" option
Ensure the following settings are enabled:
"Update profile each time a user logs in"
"Allow users to change their email address"
"Allow users to choose their own display name"
Choose an option that's best for your workspace for the "Authentication for your workspace must be used by" section
In the "Customize" section, enter "Trusona" for the "Sign in Button Label"
Click "Save Configuration"
1.5. Step 4: Testing the integration
After saving the SAML configuration, you will be automatically redirected to Trusona to complete an authentication
1.6. Customizing your Trusona experience
The Trusona Gateway (pictured below) includes default styling that will be familiar to your users using the Trusona App.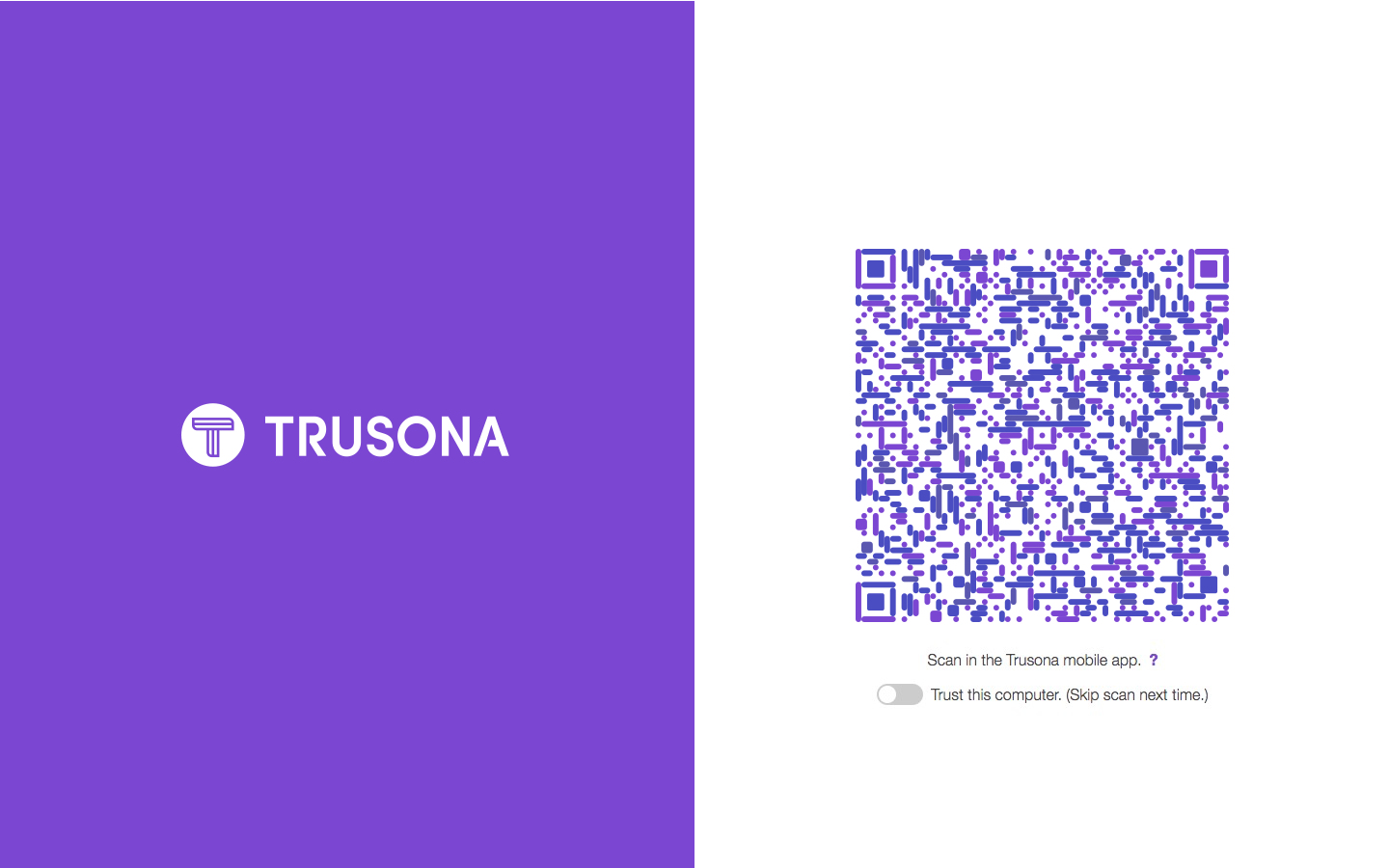 Optionally, it's possible to provide a custom branded experience for your users including things like:
Custom secure QR code colors
Your company logo and colors
In order for Trusona to create your custom gateway you need to provide to Trusona hex values and images for the following:
1.7. Provide images
Hero image: 1440 x 1800 px
Logo image: 500 x 500 px
1.8. Provide hex values
Animated dot color: this is the color dots that animate
List of QR colors: multiples of the same color will appear more (provide 2 hex values)
Link color:
Text color:
Background color: affects background behind the QR, usually we just do pure white (#FFFFFF)