1. Getting Started
1.1. Step 1: Email Trusona
Send an email to support@trusona.com with the following information:
Subject: Okta Integration
Company name
Email domain(s) associated with your Okta users
Optional - Vanity url (url seen while on the Trusona gateway)
Example:
Gateway url: https://okta98098.gateway.trusona.net/sessions/new
or
Vanity url: https://login.yourcompany.com/sessions/new
1.1.1. Setting up a vanity url
Add a new CNAME DNS record for your domain.
Set the "host" value to the URL you'd like users to see when logging in
Set the "Answer" value to ssl.trusona.net
Set the TTL to 300
Here's an example of a CNAME answer when retrieved by dig tada.trusona.com.
tada.trusona.com. 3600 IN CNAME ssl.trusona.net.
Trusona will send you the following via email:
IdP Signature Certificate
Origin URL (Is Vanity url. If you are not using Vanity url Origin URL will be provided)
IdP Single Sign-On URL
1.2. Step 2: Log into the Okta admin portal
If you are logged into the developer portal by default than select the dropdown that reads Developer Console and click Classic UI.
If you see this page and admin button, then click Admin button.
1.3. Step 3: Create API token
Navigate to "Security" > "API" and then click the Create Token button.
Copy your API token ("Token Value" in the above image) and save it somewhere safe. You will send this to Trusona along with other information in step 8.
1.4. Step 4: Add Origin
Navigate to "Security" > "API" > "Trusted Origins" and click the Add Origin button.
Name your Origin Trusona
Trusona will provide you with the Origin url
Check both CORS and Redirect checkboxes
1.5. Step 5: Create a group
Navigate to "Directory" > "Groups" > click Add Group and create a name and a description
Name the group Trusona
Provide a group description
Click Add Group
This group is used to prevent users, who are using Trusona for passwordless login, from being prompted for an additional second factor of authentication.
You don't need to maintain the membership of this group. Group membership is automatically managed by Trusona via the Okta API. Do not add any members to the group.
1.6. Step 6: Create an Identity Provider
Navigate to "Security" > "Identity Providers" > Click Add Identity Provider > Click SAML 2.0 IdP
Note: If the "Add Identity Provider" button does not have a drop down then click "Add Identity Provider" and continue with the steps below.
Complete the form to add the new SAML IdP using the information below:
1.6.1. General Settings
| Field | Value | Instructions |
| --- | --- | --- |
| Name | Trusona |   |
1.6.2. Authentication Settings
| Field | Value |
| --- | --- |
| IdP Username | idpuser.subjectNameId |
| Filter | Unchecked |
| Match against | Okta Username |
| If no match found | Create new user (JIT) |
1.6.3. JIT Settings
| Field | Value | Instructions |
| --- | --- | --- |
| Profile Master | Unchecked |   |
| Group Assignment | Assign to specific groups |   |
| Specific Groups | Your Group Name | Enter the group name created in step 5. |
| If no match found | Create new user (JIT) |   |
1.6.4. SAML Protocol Settings
The email you receive back from Trusona will contain the IdP Single Sign-On URL and the IdP Signature Certificate
| Field | Value | Instructions |
| --- | --- | --- |
| IdP Issuer URI | https://gateway.trusona.net/saml/metadata |   |
| IdP Single Sign-On URL | https://<YOUR ORIGIN URL>/saml | This is unique to your integration with Trusona. It will be provided by Trusona, and will look something like https://example.gateway.trusona.net/saml |
| IdP Signature Certificate | Issued by Trusona |   |
Once the information in the tables above has been entered into the form, click the Add identity provider button to continue.
1.7. Step 7: Create new Sign-On policy
1.7.1. Navigate to "Security" > "Authentication" > "Sign on"
To create the new policy, click the Add New Okta Sign-On Policy button.
Enter "TrusonaUsers" for the Policy Name
Choose a meaningful description for the Policy Description
Add the group you created in step 5 in the "Assign to Groups" section
Click Create Policy and Add Rule
Rule Name: Name rule (This rule allows users to authenticate from anywhere)
Ensure that "Prompt for Factor" is unchecked. (If "Prompt for Factor" is checked, users may see unnecessary 2FA prompts after using Trusona to login to Okta.)
After creating a rule make sure the new rule is activated
1.8. Step 8: Send Trusona your configuration details
Using https://onetimesecret.com send the following information to support@trusona.com:
API Token Key
Group URL [Located in Directory > Groups > Trusona > copy the URL from the browser]
SAML metadata [Located in Security > Identity Providers by expanding the SAML IdP row]
Once this information is received, Trusona will provision your Okta integration and notify you by email when the Trusona integration is ready for use.
1.9. Step 9: Create Routing Rule
Note: Do not move onto step 9 until you have received confirmation from Trusona that your information from step 8 has been provisioned. Otherwise you may be locked out of your account.
Navigate to "Security" > "Identity Providers" > "Routing Rules"
Click the Adding Routing Rule button.
Match the fields below
Click Create Rule
| Field | Value |
| --- | --- |
| Rule Name | Trusona |
| User's IP is | Anywhere |
| User's device platform | Any device |
| User is accessing | Any application |
| User matches | Anything |
| Use this identity provider | Trusona |
Trusona recommends that this newly created routing rule be placed above existing routing rules. This ensures that users are redirected to the Trusona IdP for authentication. Your specific implementation and/or deployment needs may require the rule to be placed somewhere other than first in the list.
1.10. Step 10: Create a Trusona Registration application
The Trusona Registration application helps your users link their Okta account to their Trusona Account. This process guarantees that users are identified by the Trusona IdP with a known and valid Okta identifier. All users that intend to use Trusona to login with Okta should complete the registration process described below before attempting to use Trusona to login to Okta.
1.10.1. General Settings
Applications > Applications > Add Application
Click Create New App
Select "Web" from the "Platform" list
Choose the "SAML 2.0" radio button option
Click Create
Click Next
| Field | Value |
| --- | --- |
| App name | Trusona |
| App logo | Trusona logo |
| App visibility | Unchecked |
1.10.2. Configure SAML
Enter IdP Single Sign-On url. To find it navigate to "Security" > "Identity Providers" > "Configure Identity Provider" > "SAML Protocol Settings" > "IdP Single Sign-On url"
Change the end of the URL from "saml" to "registrations" then click Next
Check on "Use this for Recipient URL and Destination URL"
Audience URI (SP Entity ID): Enter https://gateway.trusona.net/saml/metadata
Click Next
1.10.3. Feedback
Click the radio button "I'm an Okta customer adding an internal app"
Click Finish
1.11. Step 11: Create an Assignment
Within the new Trusona application > Assignment > Assign
Assign to Groups
Select Everyone
Click Assign
Click Done
1.12. Step 12: Customizing your Trusona experience
The Trusona Gateway (pictured below) includes default styling that will be familiar to your users using the Trusona App.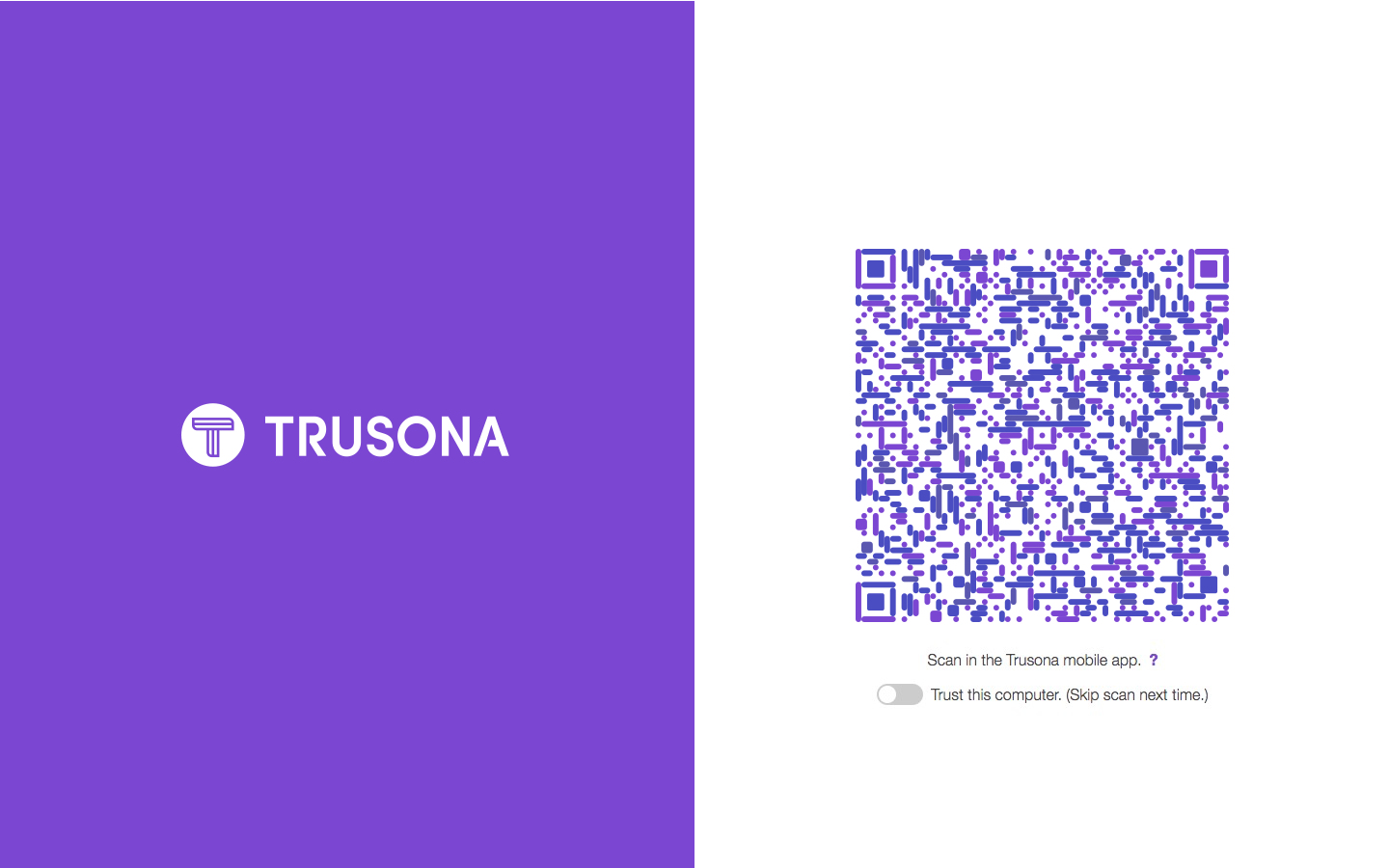 Optionally, it's possible to provide a custom branded experience for your users including things like:
A custom vanity URL
Custom secure QR code colors
Your company logo and colors
In order for Trusona to create your custom gateway you need to provide to Trusona hex values and images for the following:
1.13. Provide images
Hero image: 1440 x 1800 px
Logo image: 500 x 500 px
1.14. Provide hex values
Animated dot color: this is the color dots that animate
List of QR colors: multiples of the same color will appear more (provide 2 hex values)
Link color: also changes the Okta widget button colors
Text color:
Background color: affects background behind the QR, usually we just do pure white (#FFFFFF)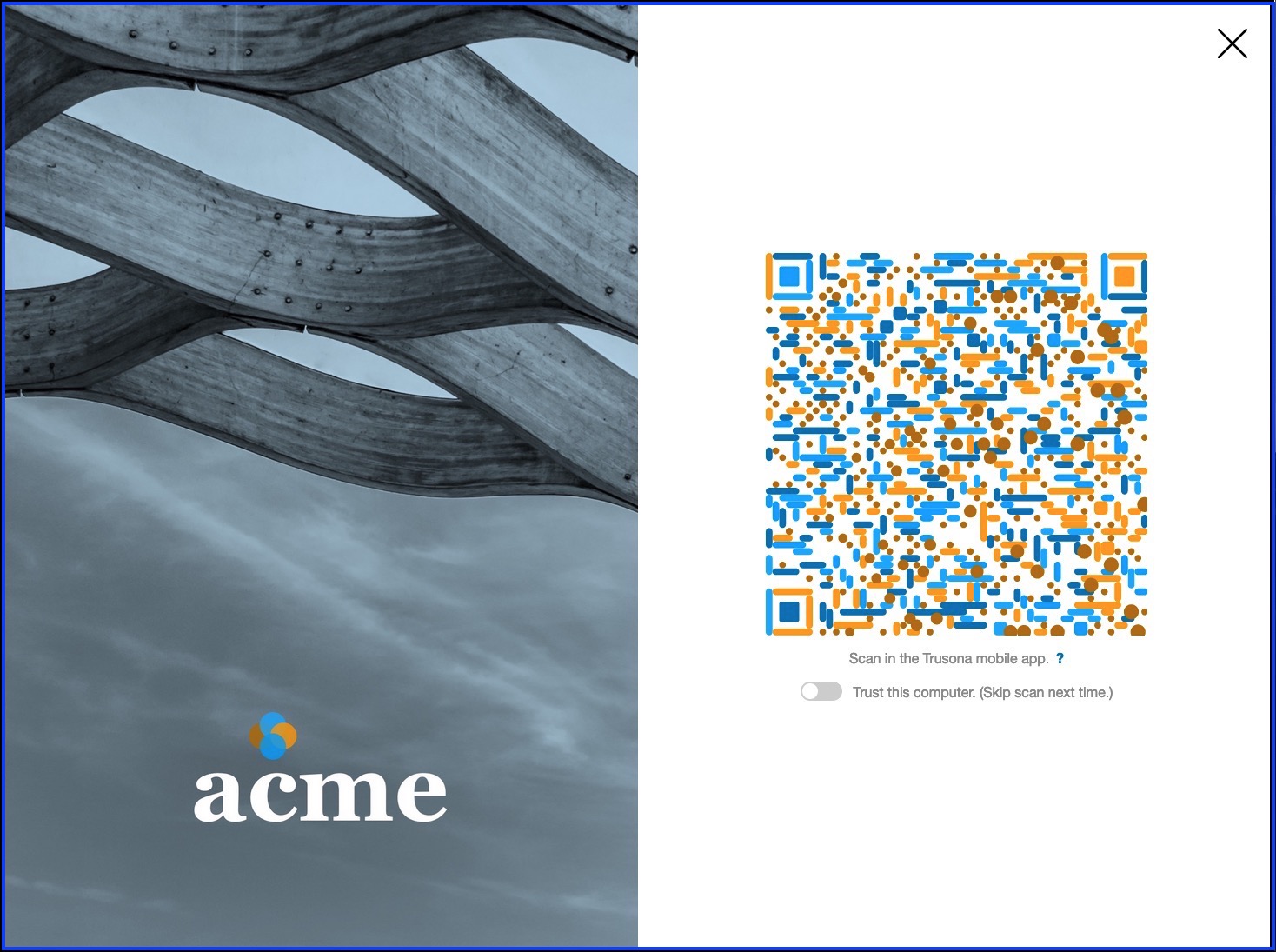 2. Okta Identifier Registration
Users who intend to use Trusona to login to Okta must complete these required one-time steps.
Download and install the Trusona App
Register in the Trusona App
Login to Okta using their existing username and password
Find, and click on, the Trusona application "chiclet" created in Step 10
Scan the QR code with the Trusona App
Accept and complete the Trusonafication
The user's Okta identifier has now been linked to their Trusona account and they are now ready to use Trusona to login with Okta.